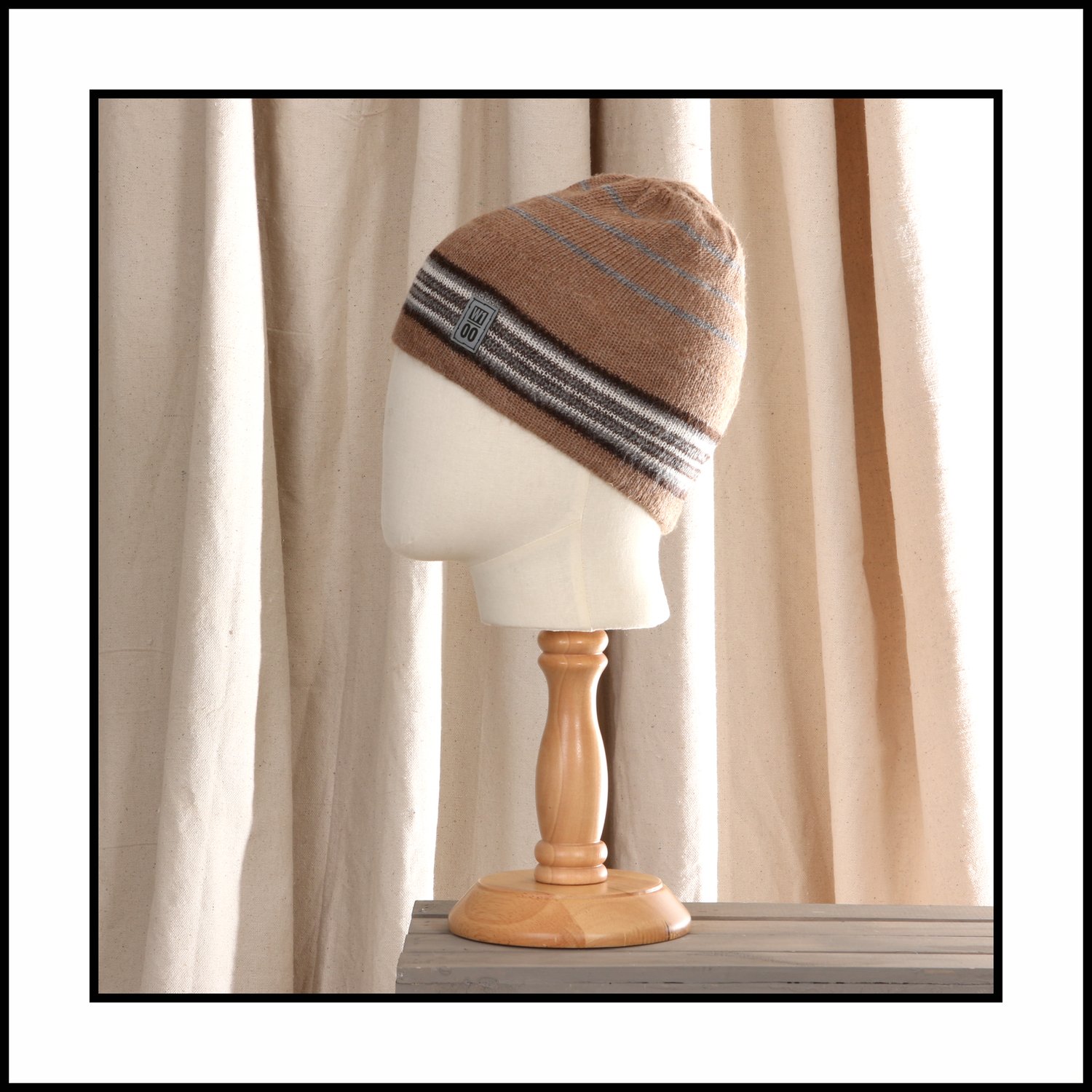 (#207) - Minimal Wide Band Toque with Stripe - alpaca - 100 Mile Wardrobe Series (zero waste
If you are into rare, beautiful, classic and sustainable, our 100 Mile Wardrobe series is for you.
We had a crazy idea of creating a knitwear line that was "yarn forward" factory free, within 100 miles of our studio. Imagine knitwear with local animals or mills, knit within a close proximity. Our 100 Mile Wardrobe is the result of this concept.
The "Minimal Wide Band Toque with Stripe" is a streamlined classic toque made of Canadian produced alpaca, milled 31 km away from our studio. A beautifully soft toque in a timeless and classic style.
This piece is not only part of our 100 Mile Wardrobe Series, but also features a "zero waste" stripe. Every now and then we incorporate the small lengths of yarn we have in stock, into a piece. This makes for a unique piece where the style is determined by the available fiber. One identifying quality of a "zero waste" piece is the occasional yarn join; this is how we are able to create pieces utilizing every last length of fibre.
"Zero waste" pieces are always one-of-a-kind.. If you like rare pieces, this is the piece for you.
____________________________________________________________
This Canadian toque features:
- gender neutral, perfect for everyone
- Canadian produced and milled yarn (70% alpaca 30% nylon)
- super soft, smooth and light texture
- always designer made; crafted by hand in Canada
- product of Canada, product of Alberta
____________________________________________________________
Sizing: one size (fits an adult head measuring 21"-23")
Item color: fawn, dark brown, white, grey
____________________________________________________________
At W1 Hundred, we personally craft each piece, including knitting, weaving and dyeing, in our studios in Alberta and British Columbia (Canada).
---
Care: hand wash cold water, lay flat to dry out of direct sun, towel rolling when wet is also effective for drying. A cool steam iron can also be utilized for reshaping.
---
Colors: please note, colors displayed can vary from monitor to monitor, and device to device
---
Shipping is by Canada Post and includes tracking.
We currently ship to all regions of Canada excluding Quebec.
Please contact us regarding customer pick ups, other shipping options, shipping to other jurisdictions, or if you wish to add insurance to the shipping option for a purchase.